For every new website released, search engine Marketing (SEM) is required. Whether it's about Search Engine Optimization (SEO), Search Engine Advertising (SEA) or even Social Media Optimization (SMO), it allows websites to be well known and attract users.
Search engine marketing refers to a methodology of strategies, techniques and tactics used to increase the amount of visitors to a website by obtaining a high-ranking placement in the search results page of a search engine (SERP) like Google, Bing, Yahoo and other search engines. It's appearing on the first pages of engines only by using some keywords related to the main theme.
We talk about natural reference or search engine optimization when we promote the website or the blog only by what it has on it: we call it the content marketing. Content marketing is about producing and making available to your customers or prospects useful or fun content with high added value. These contents can be of different forms (texts, infographics and videos) and aim to make your company known and valued by Internet users, while it's a paid preference or search engine advertising when the position is purchased.
SEO optimizes your website
First of all, as an internet user, all we care about while searching in search engines is the first page, none of us goes to the second or third ones, and companies are aware of that, this is the main reason why SEO is a must for every website that wants to be recognized.
Every company got a website, an internet page, and working on it grows its obviousness rate, whether by using intern or extern SEO. By intern SEO, so-called SEO on-page, we mean links and content that are inside your main website, keywords, pictures, texts, everything in it that could optimize its SEO, and makes it visible in search engines, while extern SEO, or SEO off-page, is about extern websites that refers to yours, it consists in increasing the presence of your site on other sites through the creation of directing links.
SEA, or search engine advertising
The easiest ways coast the most: that's how it works in SEA, by buying sponsored links. Promotional links are part of the paid positioning. They allow buying at the top of the list, a result, a place, a position, according to searches by keywords. For the most important search tools, the purchase of keywords is done to the highest bidder with CPC billing: the more competitive is the word, the more expensive it is. The SEA has the advantage of being effective immediately: even without the optimization by keywords of the referenced page.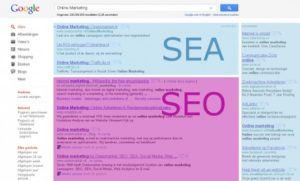 Even though, advertisements and sponsored contents seem less credible and reliable to internet users, who turn more towards « organic » links, naturally referenced.
SEO can also be by using social medias
Actually, and due to the big effect social medias have on the users, SEO can be made easily, we call it SMO (Social Media Optimization). In fact, by creating pages that are related to the main website on social media, we increase its rate of visibility, especially when posting interesting content, but also its SEO through different search engines. Therefore, either we decide to set up actions directly on the website (by adding social features such as share button or RSS feeds), or we decide to issue actions outside the site (promotion of the website via social networks or blogs).
In conclusion,
We must keep in mind that in terms of SEO, nothing is ever really acquired or guaranteed. It is therefore necessary to carry out a continuous monitoring, to carry out corrective actions … Indeed, if one can be found one day in the first results of a research, one can very quickly be found on page 5, if one does not does not update its keywords, its content, its structure…